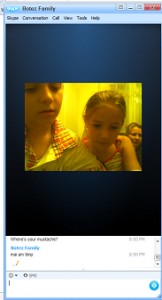 We've moved from Targu Neamt, a small town in the Moldovan region to Ramnicu Valcea, a bigger town in the Oltenian region.  We're adapting and adjusting and missing…  especially the Botez  kiddos and their family.  We chatted on skype with Emi, Mada, Marius and Claudia for awhile tonight and it was great.
While we like our new town a lot, we haven't made the people-connections yet that filled our life in Targu Neamt. We know that it takes time and we'll be patient.  But in the meantime, we're grateful that we get to stay connected with our Botez family!
Hopefully (meaning, if I'm motivated) I'll be posting a bit about the newness — our new town, new apartment, new jobs, etc.