When I was in middle school, every Advent season, my mom, teacher extraordinaire, and her students did a candlelighting service — a mixture of readings and carols — with student readers, pianists and singers, and even a live nativity. I, of course, was at the piano. After the Nativity Story was recounted, there was a moment when all the lights in the church were turned off and a student began playing carol on the piano and the reading below was shared. As the reading progressed, each student in turn switched on a little electric candle (actual fire + middle schoolers + church holiday decorations = disaster), passing the light throughout the church. Every year it gave me chills.
So might I suggest this Christmas Eve that you and yours take a quiet moment from the hustle and bustle and recreate my middle school moment: Turn the lights off. Play your favorite carol in the background, quietly (I'm playing this video). Light a candle/s. And read aloud the text below.
One candle is a small thing.
But one candle can light another. And see how its own light increases as the candle gives its flame to another.
You are such light. Light is the power to dispel darkness. You have this power to move back the darkness in yourself and in others, to do so with the birth of light created when one mind illuminates another, when one heart touches another, when one [person] strengthens another.
And its flame enlarges you as you pass it on.
Throughout history, children of darkness have tried to smother this passage of light from man to man.
Throughout history, dictators large and small have tried to darken, diminish and separate men by force.
But always in the end they fail.
For always, somewhere in the world the light remains: ready to burn brightest where it is darkest.
A light that began when God created the world.
And free peoples have remained free by resisting those who would extinguish in men the light of freedom, the light of love, the light of truth.
To do our daily part to increase this light, we must remember that a candle is a small thing.
A [person] alone is a small thing.
A nation is a small thing.
Remembering this, we must recognize something much more than our need of others.
We must remember their need of us.
We cannot hope, either as individuals or nations, to reach our highest capabilities until we help those around us reach theirs.
To be strong the strong must serve.

You, too, are strongest when you serve.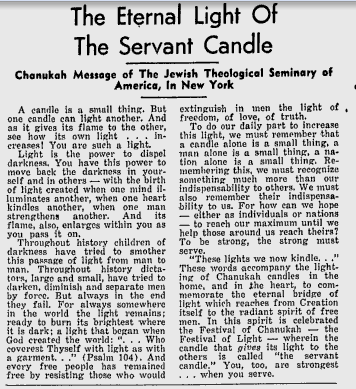 Because I love the text so much, I did a little research and it was the annual Chanukah message from the Jewish Theological Seminary back in 1955, entitled "The Eternal Light of the Servant Candle."
Merry merry Christmas to all of you near and far!